CAMP BANGIN' & SANGIN'! WITH BILLY JONAS
For ADULTS, TEENS, and YOUTH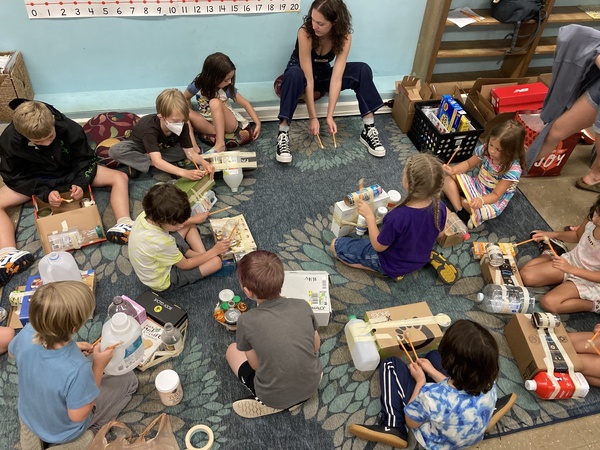 Camp Bangin' & Sangin'! (CB&S!) is a music, songwriting, and creativity camp, for adults and young folks. We have expanded for 2024 to 5 sessions, each a week long (see below).
COST:
$330/camper
10% discount for registrations of more than one camper, or for more than one week.
Limited scholarships available. Contact office@BillyJonas.com for info.
ALL CAMPS THIS SUMMER ARE DAY CAMPS, MONDAY TO FRIDAY, 9am TO 3pm.
Registration will open January 9, 2024
INFO / WAITING LIST: If you have questions, or a camp week you want is full, please email office@BillyJonas.com -- we'll send an answer, or add you to a waiting list.
2024 CAMP DATES - specific dates coming soon
TBD IN JUNE, adults 18+
TBD IN JUNE, youth 9-12
TBD IN JULY, kids 6-8* (THEME: "Music and Magical Creatures")
TBD IN JULY, kids 6-8* (THEME: "Music and Nature Exploration")
TBD IN JULY, kids 6-8* (THEME: "Music and Time Travel")
MAIN LOCATION:
Odyssey Community School
90 Zillicoa St.
Asheville NC 28801
- - -
MISSION: In the interest of connection, bridging divides, and putting more love in the world through music, CB&S! seeks to honor and nurture the creativity of every participant, regardless of previous skill, ability, or talent. Everyone is encouraged to make instruments, create songs, and sing/vocalize daily. Participants should plan to attend the entire session, as our work each week will be cumulative, culminating in a group concert.
Camp includes:
Singing (learning songs, group singing, and vocal technique)
Body percussion (fundamentals of rhythm)
Songwriting (creating, editing, rewriting, refining, rehearsing)
Performing (learn how to be comfortable on stage)
Improvisation (making it up as you go)
Homemade instrument making (from found, recyclable, and craft objects)
Ensemble playing (duos, trios, full band)
Games (music and rhythm games, plus more)
Community Service (bringing music to a retirement home, or hospital)
Swimming (M-Th, weather permitting!)
Questions? Email office@BillyJonas.com, or call 828-232-9962 (landline, no texts please).
ADULT CAMPERS: click here for an overview. You'll receive a special materials list, separately.
TEEN/YOUTH/KID CAMPERS should bring:
Swim stuff: towel, sunscreen, suit, goggles
Lunch and snack, with cold-pak
Water bottle
Journal/notebook
Recyclable materials — WASHED — for instrument making, including
- 2 boxes (one shoe box or cereal box, & one slightly larger)
- 3 or more clean metal soup cans (any size)
- 3 or more clean plastic containers like milk jugs etc
- any inspiring recyclable/found items to incorporate into a musical instrument or sculpture.
- - -
Refund Policy
You can request a full refund until May 1st, or a 50% refund until June 1st. No refunds after June 1st (fees from cancelled registrations after June 1st will be donated to the scholarship fund, or go to operating expenses).