Kol Han'shama
From the CD habayta (homeward)
updated: 2 months ago
HAPPY HOLIDAYS!
We had a great time at the Holiday Multifaith Extravaganza this past weekend at the White Horse in Black, Mt., NC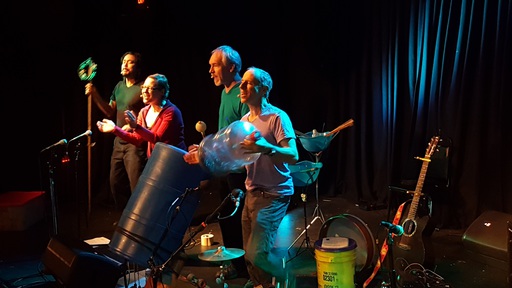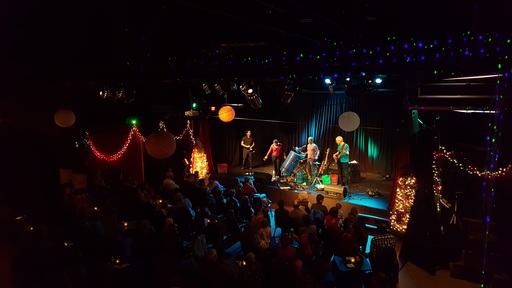 updated: 1 year ago
Happy New Year!
updated: 1 year ago
Latest News
Newsletter
Billy had a blast at KindieComm in Philly last weekend
Tuesday, April 24, 2018
photo by Nina Miller Stone


Earth Day jig with Joanie Leeds and Mister G, Live from WXPN
---

Please join the Abraham Jam, Thur. April 26th,
7 pm at Jubilee! in Asheville, NC...
Pictured above: The Abraham Jam (Billy Jonas, Dawud Wharnsby & David LaMotte)


...for this Creation Spritiuality Gathering 2018 -- kick-off concert!
---
Billy's new song, "Toot The Horn" performed very creatively at SLBC 2018
---
Article:

Abraham Jam Aims to Bring People Together Through Music
Cary Citizen, March 30, 2018

/

in Arts, Downtown, Faiths, Featured, Music

/

by Michael Papich
Cary, NC – As three musicians from three different religious backgrounds, Abraham Jam demonstrates how people can come together through harmonious music and a variety of instruments.
Finding Harmony
"We want to demonstrate that folks who are different can create something beautiful. It's part of why we prefer performing harmonies rather than having each of us play the exact same part," LaMotte said. "As a culture, we usually focus on resisting what's wrong, and that's important. But there's the other half and that's demonstrating what's right." Read the full article HERE
updated: 2 hours ago
Mailing List
Once-a-month or Twice-a-year
Thanks for your interest in Billy Jonas / the Billy Jonas Band! We look forward to keeping you informed with the latest news, where we are, and the newest media available.